ANSI Accredited Food safety for handlers course with Spanish audio!
Professional Server Certification Corp., Rserving.com, offers the Food Safety for Handlers Course in English. Students can listen to the course in Spanish or Chinese.
Click here to play Spanish Audio.

The course text is in English but the course has Spanish audio for the course content and quiz/test questions.

This course that meets most state requirements for food handlers. This course can be used in any state that requires or accepts an ANSI accredited food handler course. The Food Safety for Handlers Course can also be used to meet the demonstration of knowledge requirement (for some states).
Upon completion of the course, students can print a food handler certificate of completion from Professional Server Certification Corp. You will also receive a food handler card in the mail.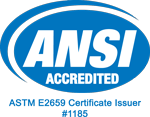 How It Works

The Food Safety for Handler's Course contains text, audio, videos, images, flashcards, quizzes and a final exam. The course is written in English but students can select their language for audio.
The flashcards, quizzes, and final exam have audio buttons which allow students to replay them as often as need.